Contact to Order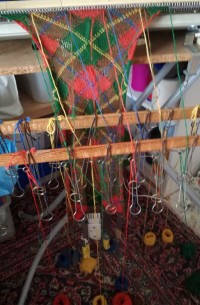 Creating Ancient Hunting MacIntosh Hose
Well if you are here, hopefully you are on the way to a pair of bespoke tartan hose to match your kilt.
And I look forward to learning all about your tartan and helping you complete your highland outfit.
If you fill in the form below, we can have a chat about your tartan and the best way to fashion them into complementary hose. 
Here are some guidelines below to get things underway.
The specifics required are the name of your tartan used in your kilt, ancient, modern or hunting shades, clan or regional etc. If you know your weaver that is also a help but not entirely necessary.
The bespoke sizing will be your leg length from below knee to floor, calf circumference at the widest point and foot length.
The timescale for completing your commission is usually one month (unless my order book is busy) from receipt of payment for your commission in advance.
Payment can be made as a bank transfer or cheque. 
A receipt will be supplied on completion of payment.
IMPORTANT: Deliveries to a non EU country (e.g Australia, Canada, Russia, Switzerland, USA, NZ) are sent without VAT. Additional local charges (import duties, tax) may apply when goods arrive in your country. These costs have to be covered by the customer and cannot be reimbursed by us.